ATP Episode 463 had a segment on how Apple has a habit of releasing software, neglecting it and rewriting it again after some time. This also means that their software is not as good.
This made me immediately think of Screen Time, a great feature that I use every day, but it feels like Apple has paid very less attention to the feature since its introduction in iOS 12.
What is Screen Time
Screen Time lets you see how much time you spend on iOS, iPadOS, and macOS devices and set limits on app usage. You can see the number of pickups, notifications, and most used apps & websites.
The Competition
Various third-party apps and services have automatic time tracking, and some are better at it than Screen Time. Here are a few that I've used in the past.
Rescue Time
Rescue Time (Referral link, direct) is a cloud-based service that works on macOS, Windows, Linux, iOS, and Android. They have browser extensions to help you track detailed website time.
Major highlights are smart features including automatic usage categorization and blocking distracting sites. They do have an iOS app but due to Apple's API limitations, they can't track usage on apps and websites. Instead, the iOS app relies on location tracking, something that I have never tried.
I used Rescue Time for 7 years but stopped because:
Screen Time covered my requirements.
I couldn't install Rescue Time on my work computer.
I am trying to reduce the personal data that I send to systems outside my control.
WakaTime
WakaTime is aimed at tracking developer time and integrates with editors or IDEs to track time spent on the projects. You can also see a breakdown by programming language. They are more detailed than Rescue Time but focus on development.
I haven't tried this service apart from a quick 2-day trial. At the time, I was using Rescue Time and didn't want redundant services.
Timing
Timing is a native Mac app that is similar to Rescue Time. However, it does not rely on cloud analysis, and you can keep all the data on your computer. There is an optional cloud sync feature if you want to see your data on other devices.
Where Screen Time Succeeds
Basic Usage Analysis
Knowing the number of pickups and notifications from apps helps me analyze my usage. On Sunday mornings, I get a Screen Time notification summarizing the time spent on my iPhone and iPad during the past week. The notification also includes if usage was more or less than the week before.
Screen Time has a widget that shows a small usage graph. It is a good way of tracking usage time at a glance. I find it helpful to quickly see if I'm overusing the phone.
Blocking Distractions
Even though the blocks are minor at best, they are good enough. I've found that the time limit overlay gives me time to pause and reflect if I really need to use my phone.
Where It Falters
There are multiple issues with Screen Time that prevent me from using it to its full potential.
Lack of Export/API
The biggest shortcoming in my opinion is the limited interface available in the Settings app. You can see the daily and weakly breakdown, but that is pretty much it.
An export option that I can automate with shortcuts will allow me to track my usage data across longer times easily.
Best-case scenario is an API available to third-party apps, which has a very remote chance of happening. With an API, services like Rescue Time would be much more useful. Even if it's limited and only shows usage by categories, that'll be a great addition.
Bugs
Since the introduction of the feature, I've noticed constant bugs with unblocking the apps and websites. Several times, I unblock a website only for the blocked screen to appear immediately or on the next page.
Apps exhibit similar behavior, and I have gotten stuck on the time limit screen. Sometimes multiple retries fixed this and other times, I had to do a hard reset.
Here's my fight with the feature on my iPad:
Most annoying, there are bugs around time tracking. See this reddit thread on how the OS can count device use time of 24 hours or more per day.
I have not encountered anything that severe, but there have been instances when I woke up to find that I was using the Amazon app in my sleep: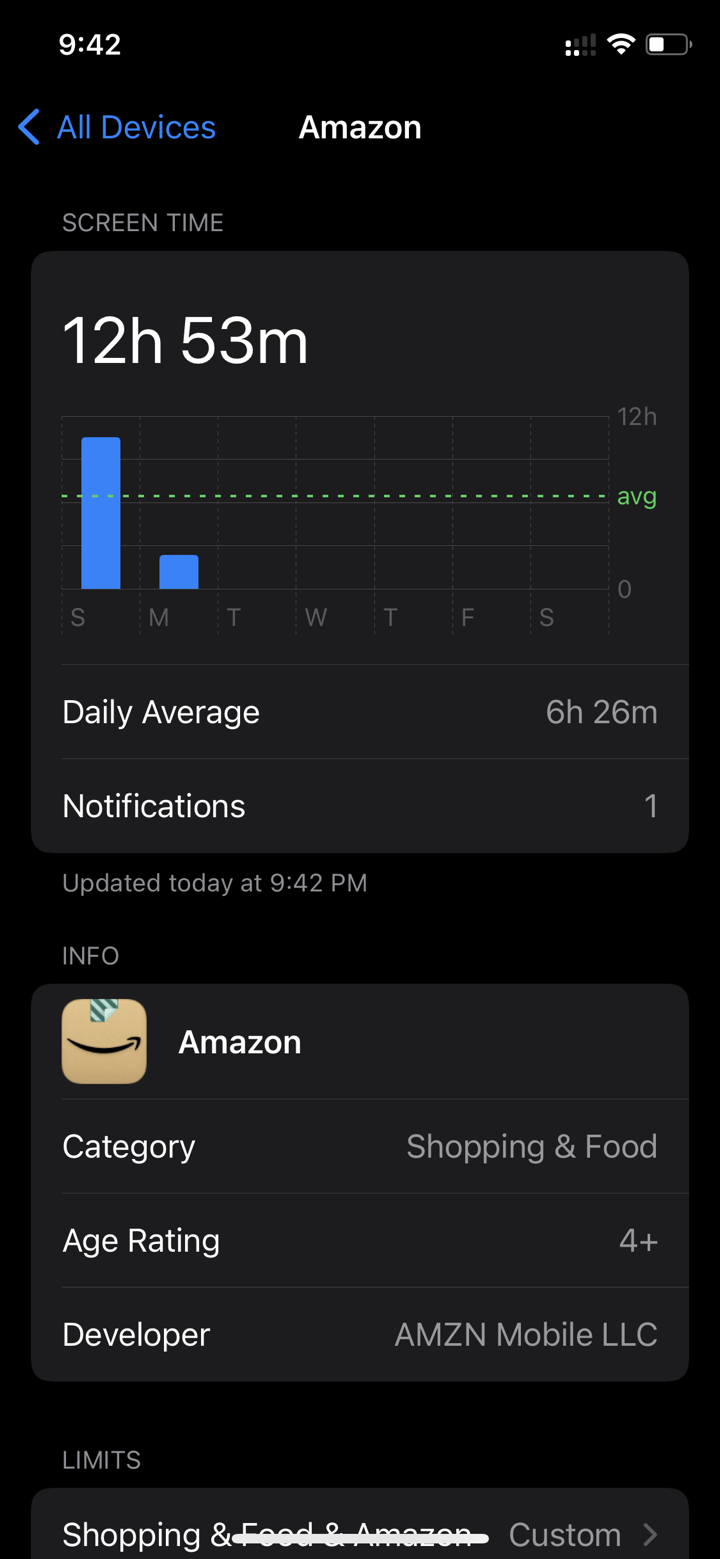 Missing watchOS Support
Before I start, I entirely understand that watchOS is dependent on iOS by design. But, with cellular watches, Screen Time has potential to render your watch unusable.
If you use Downtime, there's no control on the Watch. You can't unblock an app, period.
Second, there's no fine-grained control for Watch only apps. Want to allowlist Fitness or Workouts? You can't do that without turning the feature off.
Non App Store Apps
I have a paging app that I need to allow when I'm on the on-call rotation. Annoyingly, it does not appear on the list of apps in Screen Time. I found a workaround where adding one of the public apps from Amazon automatically allowed paging app as well, but this is a clunky solution at best.
CarPlay
I love CarPlay. So much that it was the top feature when I was looking for a car. However, I have come to hate how it completely ruins my Screen Time stats.
Used Maps for navigation? Enjoy the addition of that time to the usage. Here's my Maps usage from last week: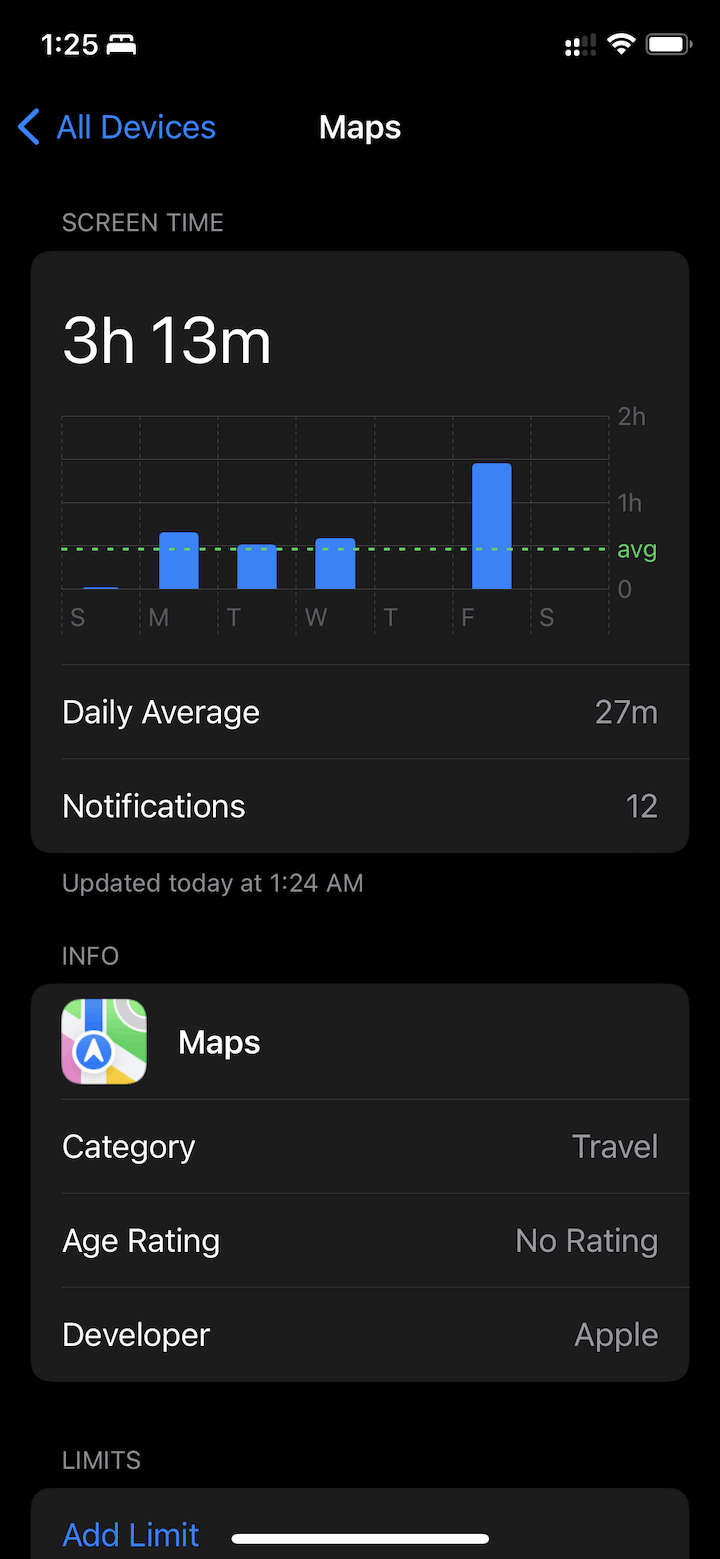 How can Apple Improve Screen Time
I think that the easiest way for Apple would be to surface this data as an API. Of course, with their focus on privacy, this will have to be a careful change. But I can see great possibilities for third-party apps here.
Lacking that, Apple needs to spend some time on the feature and fix the persistent bugs. As of iOS 15, blocking was in such a bad state that I turned it off entirely.
What do you think of the feature? Do you use it? Have you encountered any of these bugs? Let me know on Twitter or in comments.